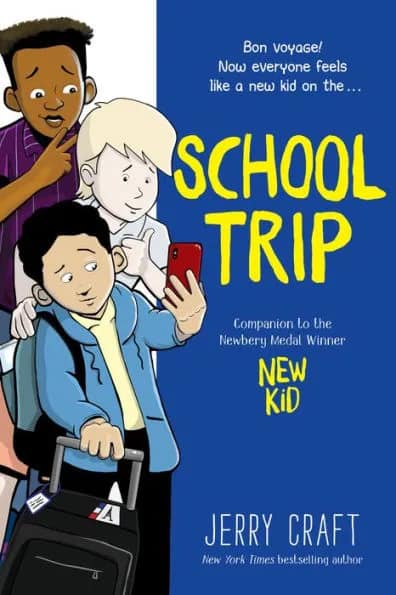 About School Trip
The Companion Book to New Kid
New York Times bestselling author Jerry Craft is back with the newest adventures of Jordan, Drew, Liam, and all the characters that fans first met in New Kid, winner of the Newbery Award and the Coretta Scott King Author Award! In this full-color contemporary graphic novel, the gang from Riverdale Academy Day is heading to Paris, for an international education like you've never seen before …
Jordan, Drew, Liam, Maury, and their friends from Riverdale Academy Day School are heading out on a school trip to Paris. As an aspiring artist himself, Jordan can't wait to see all the amazing art in the famous City of Lights.
But when their trusted faculty guides are replaced at the last minute, the school trip takes an unexpected—and hilarious—turn. Especially when trying to find their way around a foreign city ends up being almost as tricky as navigating the same friendships, fears, and differences that they struggle with at home.
Will Jordan and his friends embrace being exposed to a new language, unfamiliar food, and a different culture? Or will they all end up feeling like the "new kid"?
About Class Act
The Companion Book to New Kid
New York Times bestselling author Jerry Craft returns with a companion book to New Kid, winner of the 2020 Newbery Medal, the Coretta Scott King Author Award, and the Kirkus Prize. This time, it's Jordan's friend Drew who takes center stage in another laugh-out-loud funny, powerful, and important story about being one of the few kids of color in a prestigious private school.
Eighth grader Drew Ellis is no stranger to the saying "You have to work twice as hard to be just as good." His grandmother has reminded him his entire life. But what if he works ten times as hard and still isn't afforded the same opportunities that his privileged classmates at the Riverdale Academy Day School take for granted?
To make matters worse, Drew begins to feel as if his good friend Liam might be one of those privileged kids. He wants to pretend like everything is fine, but it's hard not to withdraw, and even their mutual friend Jordan doesn't know how to keep the group together.
As the pressures mount, will Drew find a way to bridge the divide so he and his friends can truly accept each other? And most important, will he finally be able to accept himself?
New Kid, the first graphic novel to win the Newbery Medal, is now joined by Jerry Craft's powerful Class Act.
Praise & Reviews for Class Act

"A moving and often very funny story about the convergence of an awkward age (13 to 14) with an awkward age (America's racial reckoning)…. [Craft] balances his biting sendup of American race relations with poignant family portraits, and the art is most striking in quiet moments."
The New York Times Book Review
"Craft makes the story honest and believable and presents it as a powerful, if difficult to achieve, real-world possibility. Another work of resounding understanding and empathy"
Booklist (starred review)
"A well-Crafted, visually rich, truth-telling tale for our troubled times that affirms the eternal importance of friends."
Kirkus Reviews (starred review)
"Hilarious and heartfelt. Craft adeptly balances poignant questions…with laugh-out-loud moments of adolescence, making Class Act a substantial snapshot of the interior life of boys, especially Black boys who are too often not afforded such attention, love, and care."
The Horn Book Magazine (starred review)
"Lightning strikes twice as Craft again produces a funny and appealing yet sensitive and nuanced middle grade tale of inequity and microaggressions."
School Library Journal (starred review)
"Deftly weaving discussions of race, socioeconomics, colorism, and solidarity into an accessible narrative, Craft offers a charming cast journeying through the complicated landscapes of puberty, self-definition, and changing friendships, all while grappling with the tensions of attending an institution that structurally and culturally neglects students of color."
Publishers Weekly (starred review)
"Craft approaches Drew's—and his devoted friends'—dilemmas with candor and respect. Kids who missed volume one can dive in here and backtrack later; kids already on board will identify episodes and new characters around which they can build hope for a third entry."
Bulletin of the Center for Children's Books (starred review)
About New Kid
Perfect for fans of Raina Telgemeier and Gene Luen Yang, New Kid is a timely, honest novel about starting over at a new school where diversity is low and the struggle to fit in is real, from award-winning author-illustrator Jerry Craft.
Seventh grader Jordan Banks loves nothing more than drawing cartoons about his life. But instead of sending him to the art school of his dreams, his parents enroll him in a prestigious private school known for its academics, where Jordan is one of the few kids of color in his entire grade.
As he makes the daily trip from his Washington Heights apartment to the upscale Riverdale Academy Day School, Jordan soon finds himself torn between two worlds—and not really fitting into either one. Can Jordan learn to navigate his new school culture while keeping his neighborhood friends and staying true to himself?
Universal Pictures has acquired film rights to New Kid, with LeBron James' The Spring Hill Company on board to develop and produce. Craft will be an Executive Producer.
Awards & Recognition for New Kid
Winner of the 2020 Newbery Medal
Winner of the 2020 Coretta Scott King Book Awards Author Award
#1 New York Times Bestseller
Winner of the 2019 Kirkus Prize for Young Readers' Literature
Finalist for Audie Award – Middle Grade Book of the Year
San Francisco Chronicle Bestseller
NEIBA, NAIBA, MPIBA, NCIBA, SCIBA and PNBA Bestseller
Indie Bestseller for Early & Middle Grade Readers
One of Publishers Weekly's Best Middle Grade Books of 2019
New England Independent Booksellers Association Best Children's Book of 2019
New Atlantic Independent Booksellers Association 2019 Book of the Year for Middle Readers
Top 10 Spring 2019 Indie Next List Pick
Amazon Best Book of the Month, Ages 9-12
2020 Eisner Award for Best Publication for Kids Nominee
2019 Harvey Award for Best Children's Book Nominee
One of Booklist's 2019 Top 10 Diverse Fiction for Youth
One of Publishers Weekly's Most Anticipated Children's Books, Spring 2019
#1 Indie Comics & Graphic Works Bestseller
One of the Best Graphic Novels of 2019 – School Library Journal
One of the 5 Best Fiction Books of 2019 – Washington Post
One of the Best Graphic Novels of 2019 – Washington Post
2020 Charlotte Huck Award for Outstanding Fiction for Children – Honor Book
30 of the Most Influential Children's Books of All Time – Bookriot.com
One of the Best Books of the Year – Time.com
Best Books of 2019 – New York Public Library
Best Fiction for Older Readers of 2019 – Chicago Public Library
25 Best Children's Books of 2019 – New York Times
Best Multicultural Children's Books of 2019 – Center for the Study of Multicultural Children's Literature
The Best New Gift Books for Kids – People
Kirkus – Best Middle Grade Graphic Novels of 2019
100 Scope Notes Best Books of 2019
Shelf Awareness – Best Middle Grade Books of 2019
Today.com – Best Graphic Novels of 2019
2022 Pacific Northwest Library Association Young Reader's  Choice
2022 Grand Canyon Reader Award (Arizona)
2022 Charlie May Simon Award (Arkansas)
2021 Nutmeg Book Award (Connecticut)
2020 Connecticut Book Awards (Connecticut)
Sunshine State Young Readers Award 2020-2021 (Florida)
2021 Nene Award (Hawaii)
2021 Rebecca Caudill Young Reader's Book Award (Illinois)
2021 Young Hoosier Book Award (Indiana)
2020-2021 Iowa Children's Choice Award (Iowa)
2021-2022 Louisiana Readers' Choice Awards (Louisiana)
2021 Maine Student Book Award (Maine)
2020 – 2021 Great Lakes Great Books Award (Michigan)
2021 Minnesota Youth Reading Award (Minnesota)
2019 – 2020 Great Stone Face Children's Book Award (New Hampshire)
2022 North Carolina Children's Book Award (North Carolina)
2021 Pennsylvania Young Reader's Choice Award (Pennsylvania)
2020-2021 Volunteer State Book Award (Tennessee)

"Funny, sharp, and totally real! Jordan Banks is the kid everyone will be talking about!"
Jeff Kinney, Author of Diary of a Wimpy Kid
"New Kid is at once tender and tough, funny and heartbreaking. Hand this to the middle-grade reader in your life right away."
The New York Times Book Review
"Possibly one of the most important graphic novels of the year."
Booklist (starred review)
"An engrossing, humorous, and vitally important graphic novel that should be required reading in every middle school in America."
Kirkus Reviews (starred review)
"This is more than a story about being the new kid—it's a complex examination of the micro- and macroaggressions that Jordan endures from classmates and teachers. Highly recommended for all middle grade shelves."
School Library Journal (starred review)
"Award-winning author/illustrator Jerry Craft confronts elitism, microaggression, racism, socioeconomic disparity and white privilege in a familiar setting… Presented in predominantly full-color, richly saturated panels, Craft distinguishes Jordan's sketchbook entries in black-and-white pencil drawings, their stark simplicity underscoring their uncomplicated wisdom…. Preteen audiences will undoubtedly recognize and empathize with Craft's memorable cast."
Shelf Awareness (starred review)
"This engaging story offers an authentic secondary cast and captures the high jinks of middle schoolers and the tensions that come with being a person of color in a traditionally white space."
Publishers Weekly (starred review)
"Genuine characters propel this funny, warm, biting, fearless story. Entertaining and insightful, it will surely offer affirmation for some readers, revelation for others."
Cooperative Children's Book Center
"Craft's full-color comics art is dynamic and expressive, generously adorned by emojis, arrows, and imaginative elements such as the small winged cherubs who frequently hover over Jordan's shoulders; each chapter is introduced by a witty, foreshadowing double-page spread. This school story stands out as a robust, contemporary depiction of a preteen navigating sometimes hostile spaces yet staying true to himself thanks to friends, family, and art."
The Horn Book Magazine
Meet Jerry Craft
Meet Connecticut-based children's book author and illustrator Jerry Craft. Mr. Craft explains how his identity as an African American man influences his work, and how he hopes young readers are affected by his books.